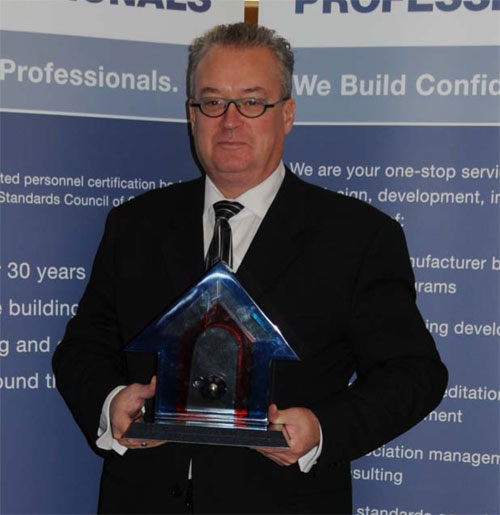 Manitoban selected for the first ever award in Canada to recognize the advancing of the home performance industry
On Thursday, October 29th, 2009 Mr. Laverne Dalgleish of Building Professionals was presented with the 1st ever Building Performance Institute Tony Woods Award for Excellence in Advancing the Home Performance Industry in Canada. The award ceremony was part of the Canada Mortgage and Housing Corporation (CMHC) and Natural Resources Canada (NRCan) conference on Energy Retrofits for Houses that took place in Toronto, Ontario on October 28th and 29th, 2009. This event had over 420 attendees from across Canada and the United States.
The Canadian award was given to the individual who has most advanced the home performance industry through dedication and activism, and was selected by an independent panel of judges.
The criteria for selection was based on the following:
Recognized efforts at promoting and advancing quality assurance for the home performance industry
Development and introduction of new standards and certifications
Expansion of Home Performance with ENERGY STAR® and/or ecoENERGY- Retrofit Homes programs
Demonstrated success in professionalizing the home performance industry
The Tony Woods Award for Excellence in Advancing the Home Performance Industry is a new initiative from BPI in honor of Tony Woods, who passed away on May 8, 2009, after a battle with leukemia. As a former member of the BPI Board of Directors and President of Canam Building Envelope Specialists Inc. and ZERODRAFT®, Woods was a pioneer of the home performance industry.
Mr. Dalgleish has been involved in the home performance industry for close to 30 years, with his entire business revolving around quality assurance, certification, industry collaboration and developing high industry standards for energy efficient and green buildings.
Mr. Dalgleish has volunteered thousands of hours to promote home performance and move the industry forward by participating and being actively engaged in showing volunteer leadership. He has worked on developing standards for energy efficient building products and serves as chairman of the ULC Thermal Insulation Committee and ULC Air Barrier Committee, and has represented Canada on developing ISO standards for various insulation products.
Media Contact: Ryan Dalgleish
Building Professionals
Ph. 204-956-5888
Fax. 204-956-5819
E. rdalgleish@buildingprofessionals.com